Discover more from Something Nice
I used to write essays on Tumblr and now I write essays on Substack.
Lyle and house
instructions for care of dog and home
Everyone in the line at the check-in counter was wearing masks and even their kids were wearing masks, except for one lady, who worked for either the airline or the airport, and whose mask kept falling down under her nose and the top of her mouth when she'd walk up real close to people to say, are you sure that bag isn't more than 50 pounds?, or, you have to print your bag tag before standing in this line.
People sometimes say, it's like an airplane hangar!, to describe when something is really big. Airports are so huge! You don't realize how huge until you are in there at 5 a.m. and it's the pandemic so only like 100 other people are there with you. This whole time, despite having nowhere "to be" or anything "to do," I have not woken up early enough to see the sunrise. Only one time in the past five years did I ever see the sunrise in New York City on purpose and it was, to be honest, when I was still pretty high on this drug that, when it "hit," so to speak, my ex-boyfriend and I stopped fighting on a dance floor (I knowwww) and started just laughing instead. When people think of drugs being good, I think they are thinking of an experience like that. We stayed up for hours and rode in all these cars to all these places and eventually it was almost sunrise and we had to walk down to see it happen from the bottom of Manhattan. Then we rode in one more car back to my apartment and slept, and I went for a run at 1 p.m. thinking, my heart might explode! We ate brunch at 3:30 and I realized this is why in New York City brunch is until 4 in the afternoon, even though that is definitely more "linner" territory, as far as portmanteaus are concerned.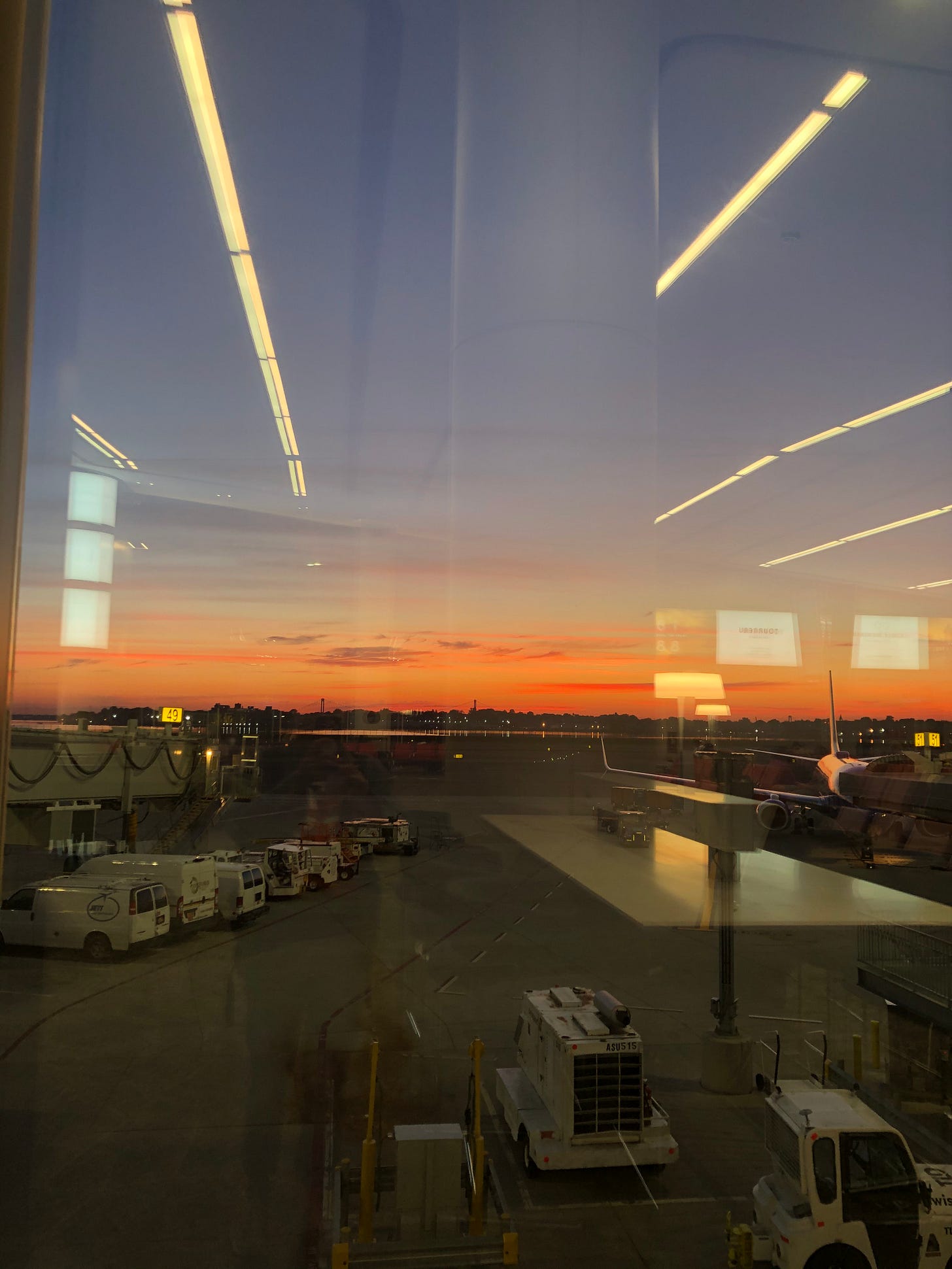 So I sat really far away from the other people in the airport, next to the big wall of windows for people to look at the planes, and watched the sunrise. Of course, it was so nice. A couple of people walked over and silently took pictures of it, which I liked to see. I tried to make a playlist of songs and downloaded a few episodes of The Bachelor (U.K.) to my phone. The only songs I could think of as existing are the same ones I have listened to since March. A problem I have, maybe you have, too: Loving the shortest songs the most, which is irritating when I get into a mood where I have to listen to them on single-song repeat. "Game of Pricks" is one such song. 1:33 long! And still I can't remember the words, so I make up gibberish when I sing along. I've waited too long to have you hide in the back of me, I've cheated do ba do ba do badobadobadooo.
Everyone spread out to get onto the plane and when I sat down (window seat, close to the back, as the approx. 275 articles I read on flying during a viral pandemic suggested) I listened to a song where, I swear to god, one of the lyrics is, "I miss New York, but I don't wanna think about leaving." I didn't even do it on purpose! Things like that just happen on planes. This made me emotional, obviously, and I'd like to say I cried, but in reality, my nose and eyes stung a little and then I had the feeling of needing to cough. Not wanting to cough on a plane at this moment in time, I did some gurgling throat sounds from behind my mask. Then I slept and when I woke up, we were landing in Houston. The irony of only just leaving New York City for Houston right now is not lost on me, I can promise you that!
My brother picked me up wearing a mask that has camouflage and deer on it, which he said he "picked up from somewhere in College Station," and now I keep picturing him reaching into a big bin like they keep bouncy balls in at Walmart, picking up this deer mask. My mom's new puppy, Lyle, was in the passenger seat, jumping around and looking very excited. It kills me when I see my very large brother pet the small dog. My brother was listening to Joe Rogan but changed it to XM radio when I got in the car and he told me how if someone is having a mental breakdown, the police are the last people you want involved. I have no choice but to agree.
I am under strict instruction not to tweet about the document my mom emailed me for taking care of her dog. My brother described it as, Mom typed a fucking essay. I would describe it as, Thorough, which I appreciate. The document is titled Lyle and house, equating the two things with each other, in terms of importance. There are 18 bullet points and the commands for the dog are bolded. When he pees/poops, I have to say "go potty" and give him a treat. On walks, his commands are "With me" and "let's go." He knows the word "No," but I have to say it firmly. My mom's husband added some character traits about Lyle to the bottom of the document in a separate section of bullets and these are my favorite part. Try to get through them without saying, "same!" I bet you can't!

For comparison: The instructions for care addressing the "and house"part of the document are two sentences telling me to water my mom's one million plants every day, except not the lavender unless it looks droopy. So far, the dog, who is the only person and/or living thing I can talk to for over a week until my mom comes home, does not seem to respect me when I say the bolded command phrases. Still, I love him.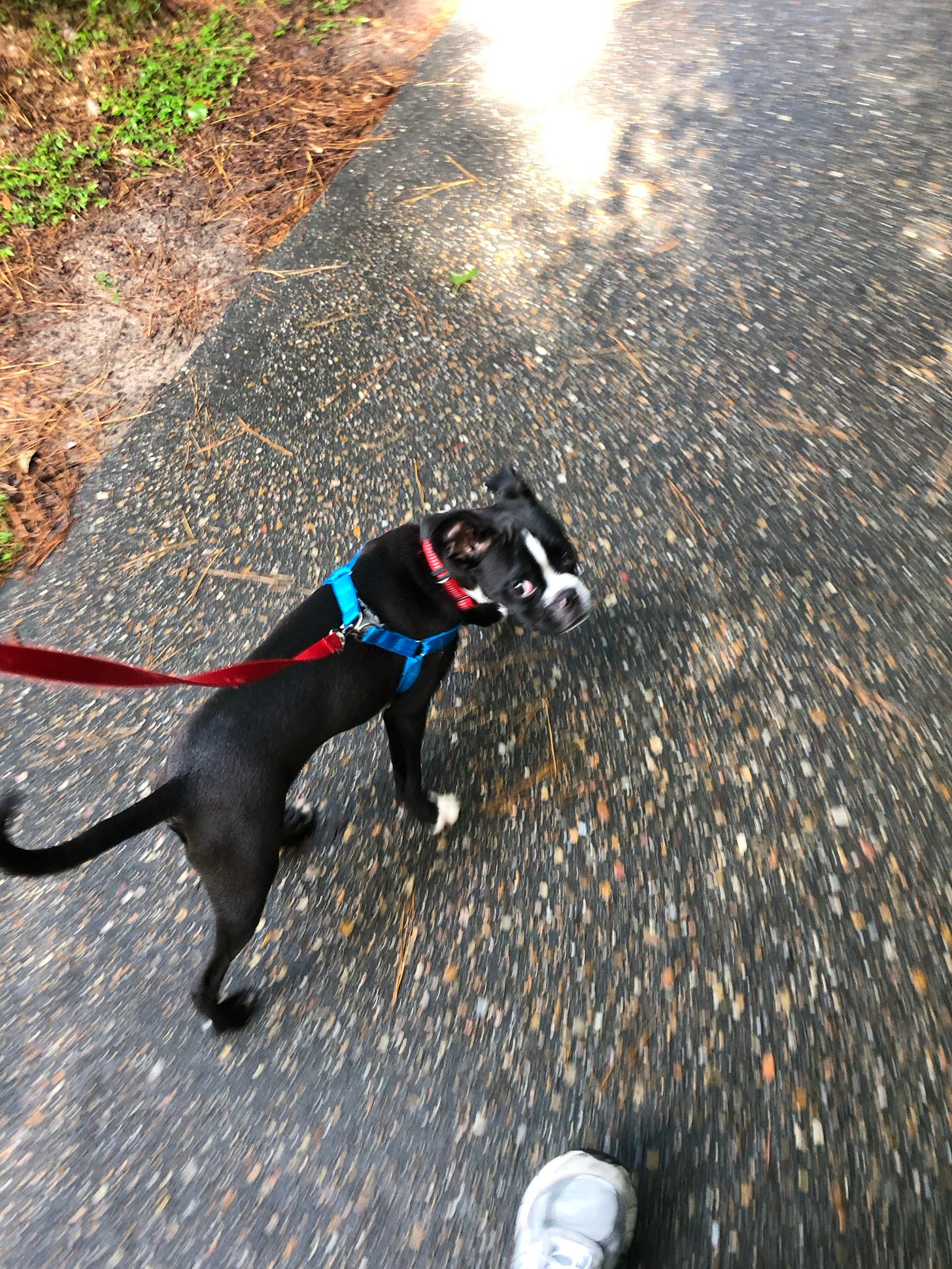 Now I am in And House with Lyle and it is the first time I have been alone for more than than one hour since I don't know when. I am doing things like talking to the dog constantly, and carrying a box of crackers around from room to room. I talk to the dog like he and I are a unit making decisions together. It sounds like this: We're going to go pee (meaning I am going pee) and then we're going to go on a walk (meaning we are both going to to outside for a walk)! On Sunday I finished The Master and Margarita while sitting in my mom's backyard in my bikini in a camping chair (!), with my feet propped up on a cooler (!!). I have at least 600 mosquito bites. I felt compelled to read Master and Margarita after getting the idea in my head that I should be reading "Russian literature." I text everyone I know about Master and Margarita and say "this book is fuckin nuts!!!!!!!!" when what I really mean is, what the hell is this guy talking about? Yet I finished the book. The afterword was really nice even though that is the only part not written by Bulgakov. I liked this:
"In Anglo-American literary studies we refer to 'the anxiety of influence'; in totalitarian Russia the appropriate phrase would have been 'the anxiety of destruction.' All of Bulgakov's literary energy and creative will were concentrated on proving something that his environment contradicted: that manuscripts don't burn, that art outlasts the tyrants, that entropy doesn't triumph over the creative spirit."
Seems fitting!
After I read I came inside and listened to "St. Cloud" by Waxahatchee while sitting on the couch. Another one of the songs I just listen to and listen to since March. The song sounds very sad but I don't really know what it's all about. Listening to it didn't feel like enough so I tuned my mom's ukulele and learned the three chords in "St. Cloud" (A, B7, E) and strummed and sang along to the song. I did an objectively terrible job.
It feels like we've come to an agreement that some songs will always remind us of "this time" and I'm not sure if that means they'll be ruined or will be preserved in this special case, like if you could put them in a snowglobe or something and show them off as souvenirs from when we upended our whole lives for a while.